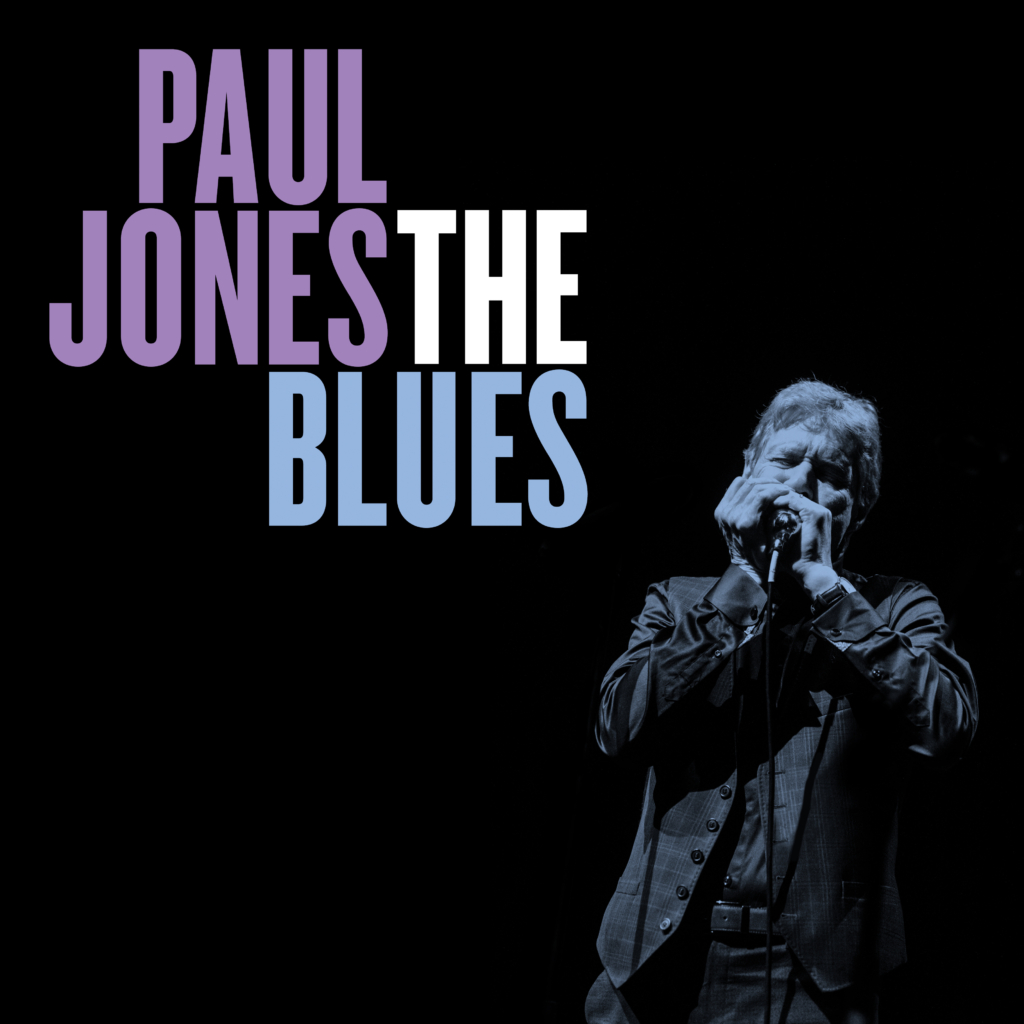 A 21 SONG CAREER-SPANNING COMPILATION FOR LEGENDARY BLUES ARTIST, PAUL JONES

Features tracks by Manfred Mann and The Blues Band.
Guest appearances from Paul McCartney, Jeff Beck, Eric Clapton and Guido Toffoletti.
Released on 30th September 2022 by Umbrella Music.
VINYL – CD – DOWNLOAD – STREAMING
PRE-ORDER NOW AT AMAZON


ABOUT THE ALBUM

Paul Jones first sang in a school choir at the age of 11, discovered jazz at 16, then blues – by the time he was 20 he was singing at the Ealing Club, run by Alexis Corner. Since then, he has been a leading exponent of blues music in the UK as both a singer and harmonica player. His career in pop music lasted four years from 1962 to 1966 with Manfred Mann, then from 1968 to 1978 he became an actor. In 1979, he formed The Blues Band and presented The Blues Show on BBC Radio 2 (1986 to 2018).
On his new album, called simply The Blues, Paul has curated twenty-one songs that he has either written or co-written throughout his career of singing and playing the blues. He has also written the liner notes for the album and gives many personal insights into his choices.
There are seven tracks from his Manfred days in the sixties, another seven tracks with The Blues Band and five tracks from his solo albums. Of the twenty-one songs, fourteen tracks were written by Jones himself, with a further seven being co-written with others.
All the tracks on this compilation have the approval of the artists who joined Paul for the recordings and Paul certainly attracted some star musicians. The album starts with Without You which he wrote for an audition in 1963 and features both Mike Vickers and Mike Hugg. Other tracks from the Manfreds include 5-4-3-2-1 which he wrote with Manfred Mann and Mike Hugg. This was the song picked as the signature tune for the TV rock/pop music show Ready Steady Go when it launched in 1964.
Jack Bruce joined Paul to write and record Sonny Boy Williamson as a tribute to the great blues singer. This features Paul on harmonica alongside Jack on bass.
Paul includes some surprises in this collection. The Dog Presides is dedicated to the HMV dog Nipper and features Paul McCartney on drums, Jeff Beck on guitar and Paul Samwell-Smith on bass. The Pod That Came Back is a surrealist science fiction song, written when he was appearing on Broadway in 1970. The familiar (to older folk) voice of Brian Matthews introduces It Took A Little While, a live recording of Paul with the Manfred Mann band in 1965, featuring both Jack Bruce and Tom McGuinness.
Some 14 years later, in 1979, Paul and Tom McGuinness formed The Blues Band. This compilation includes The Blues Band, the B side of their first single from 1980, where the lyrics name check the other members and describes the formation of the band. Sure Feels Good is from the same time and was co-written with bass player Gary Fletcher. This is classic rock 'n' roll blues with a harmonica solo from Paul. Another Blues Band track, It's Got To Be The Blues, was recorded for the 1996 album 'Brassed Up', so called because the band was augmented for that album by a big band of notable brass players.
In 1986, Jones was invited by his Venetian guitarist friend Guido Toffoletti to fly to Italy to guest with his band, Blues Society. This led to the writing of Livin' For The Day. The live recording on this album features a guitar solo by Guido. They also co-wrote Not Me which appears here from a Blues Band album and features the Memphis Horns (Andrew Love on saxophone and Wayne Jackson on trumpet and trombone).
Another guitarist, this time Eric Clapton, appears on Choose Or Cop Out, taken from Paul's 2009 album 'Starting All Over Again'. In 2015, Paul released another solo album titled 'Suddenly I Like It' and the title track is included here.
The collection closes with I'll Be Home Again Tonight, co-written with Tom McGuinness and recorded with The Blues Band. Again this features the hallmark sound of Paul Jones on harmonica.
With twenty one songs and one hour and twelve minutes of music, The Blues provides the definitive retrospective of the musical career of Paul Jones.


TRACKLISTING:
WITHOUT YOU – with Manfred Mann
SONNY BOY WILLIAMSON – with Jack Bruce
THE BLUES BAND – with The Blues Band
5-4-3-2-1 – with Manfred Mann
THE DOG PRESIDES – with Paul McCartney, Jeff Beck and Paul Samwell-Smith
NOAH LEWIS BLUES – with The Blues Band
YOU'VE GOT TO TAKE IT – with Manfred Mann
THE POD THAT CAME BACK
SURE FEELS GOOD – with The Blues Band
I'M YOUR KINGPIN – with Manfred Mann
LIVIN' FOR THE DAY – with Guido Toffoletti
NOT ME – with Guido Toffoletti
CAN'T BELIEVE IT – with Manfred Mann
LIKE MOTHER, LIKE DAUGHTER
IT'S GOT TO BE THE BLUES with The Blues Band
I NEED YOU with Manfred Mann
CHOOSE OR COP IT
DOWN THE RIVER
IT TOOK A LITTLE WHILE with Manfred Mann
SUDDENLY I LIKE IT
I'LL BE HOME AGAIN TONIGHT with The Blues Band